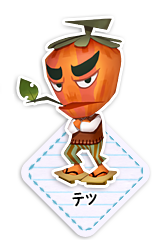 Reginald is an anthropomorphic pumpkin that manages the Strange House Dorm. He will show new players around the dorm and the way to The School. He will also withdraw a scholarship find of 3000 Ritch for new players.
Reginald is also the receptionist at Strange House Dorm and will help players with enquiries. He will also let players know when Principal Sol wants to speak to them, such as for evaluations.
If a player turns off their game without saving, Reginald will meet up with them upon starting up and remind them to always save before shutting down.
Community content is available under
CC-BY-SA
unless otherwise noted.