Tongari Boushi to Oshare na Mahou Tsukai



Developer

Konami

Release Date

December 10 2011

Genre

Life Simulation, Role-Playing, Adventure

Modes

Single Player, Online Multiplayer

Rating

JP: CERO A

Platform

Nintendo DS

Media

DS Cartridge, Official Guide Book

Preceded by

とんがりボウシと魔法のお店
Tongari Boushi to Oshare na Mahou Tsukai
(とんがりボウシとおしゃれな魔法使い) is the sequel to
Tongari Boushi to Mahou no Omise
.
Tongari Boushi to Oshare na Mahou Tsukai allows players to continue runnin their own shop as in Tongari Boushi to Mahou no Omise, but offers the addition of The Mall, where shops are now located alongside the Catwalk.
The game also introduces new characters, inlcuding a new teacher; Vicky, as well as several new shopkeepers and students.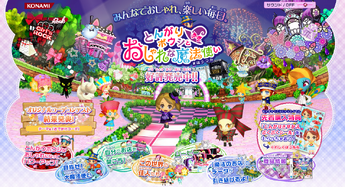 Community content is available under
CC-BY-SA
unless otherwise noted.